Open the door to your 'magician's toyshop'
It all stems from the words (with thanks to Ray Bradbury)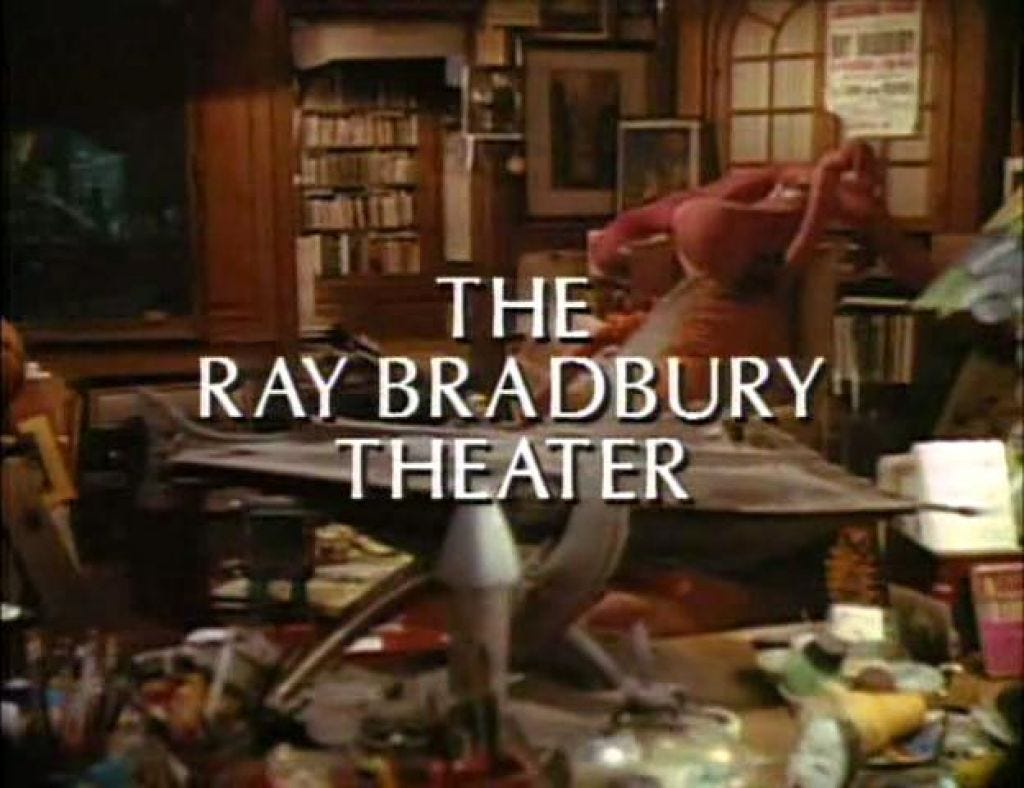 In one of the hardest periods of my life, words have been doors: sturdy lines on a page through which the past, depths of the moment, and possible futures move. Among the first books I ordered after my dad died last month were Ray Bradbury's 1951 short story collection The Illustrated Man and his book of essays, Zen and the Art of Writing. I've been wanting to read Bradbury for years, inspired by the schlocky 1980s-90s Ray Bradbury Theatre tv show. In the show's intro, a grey-haired, bespectacled Bradbury enters a dark, cluttered room he calls his 'magician's toyshop' – a vivid rendering of his subconscious – and his eyes search about for an idea. He describes the process of creating a story as a 'trip' that is 'exactly one-half exhilaration, exactly one-half terror'.
The second story in his collection The Illustrated Man is 'Kaleidoscope', a haunting tale of men meeting their deaths in the blackness of space, drifting out from a damaged rocket 'like a dozen wriggling silverfish'. My dad loved everything related to space. We grew up watching Star Trek with him, and here in the house there are models he made of spaceships and robots from various sci-fi shows and movies. These models would not look out of place in Bradbury's 'magician's toyshop' and, since Dad died, they have been asserting greater prominence in mine. As I read 'Kaleidoscope', I felt a strong connection to Dad, thinking also of his wish for his ashes to be shot into space:
'There was a kind of wonder and imagination in the thought of Stone going off in the meteor swarm, out past Mars for years and coming in toward Earth every five years, passing in and out of the planet's ken for the next million centuries.'
The essays in Zen and the Art of Writing are as inspiring and joyful as I had craved them to be. Bradbury says that the muse is your subconscious, that fiction comes from the truth inside you: the dark memories, the fears, confrontations, but also the dreams, the desires – the things you love and hate. 'To feed your Muse, then, you should always have been hungry about life since you were a child. If not, it is a little late to start. Better late than never, of course. Do you feel up to it?' (Well, do you?) His concept reminded me of what I have written and spoken about in regards to a writer's 'voice': that the voice springs from your deepest concerns, and good writing happens when you have found an appropriate mode for the articulation of these concerns. (And these are not static, either, as we come to be in touch with different parts of ourselves over time. Standing literally in my dad's shoes in the cupboard the other day, I remembered a version of myself I had forgotten.)
Bradbury has many useful exercises, too. They relate to those doors: the words themselves. We can have our loves and hates but we need the words to be 'catalysts', as Bradbury writes, to open memories out and see what they have to offer. He had a list of nouns in a notebook: the lake, the ravine, the carnival, the night train. From those, he would conduct word association exercises until something rose up from within and a character and scenario emerged. When I think of previous stories of mine, I can find the noun: the suit, the actress, the head, the trip. I love Bradbury's simple story generation tool, in which you use a word to coax the magma of the interior. Use 'the room' or 'the hat' as a portal to that thing you did as a child you're still ashamed of, or your secret dream of a big light-filled house on a river.
An additional activity, I think, or one that could be meshed with Bradbury's, might be to write down a series of 'events'. So we have the static nouns and then we have a series of movements, and the twain may meet to form a story (or not). Here are some from me:
Dropped their glasses
Came home too late
Found a message
Had no air
Found each other
Got to the bottom
Were alone again
Let flow whatever flows without second-guessing it. Even if you've seen it before. There are endless ways to write a scenario. There are endless angles on the current moment. Endless ways to write loss: in space, in a pair of shoes.
Go and open some doors.
*
Opportunity of the month
I loved reading the first issue of The New Gothic Review. They're about to open their submission window again. Read and enjoy Vol. 1 and support their Patreon to get a feel for what they're after. One day I will submit something too!
If you've been enjoying this newsletter, please do share a link on social media.
Take care, stay safe, and get in touch if I can help with anything,
Angela