Reading to write
It can be hard to write in frightening times, but favourite books will see you through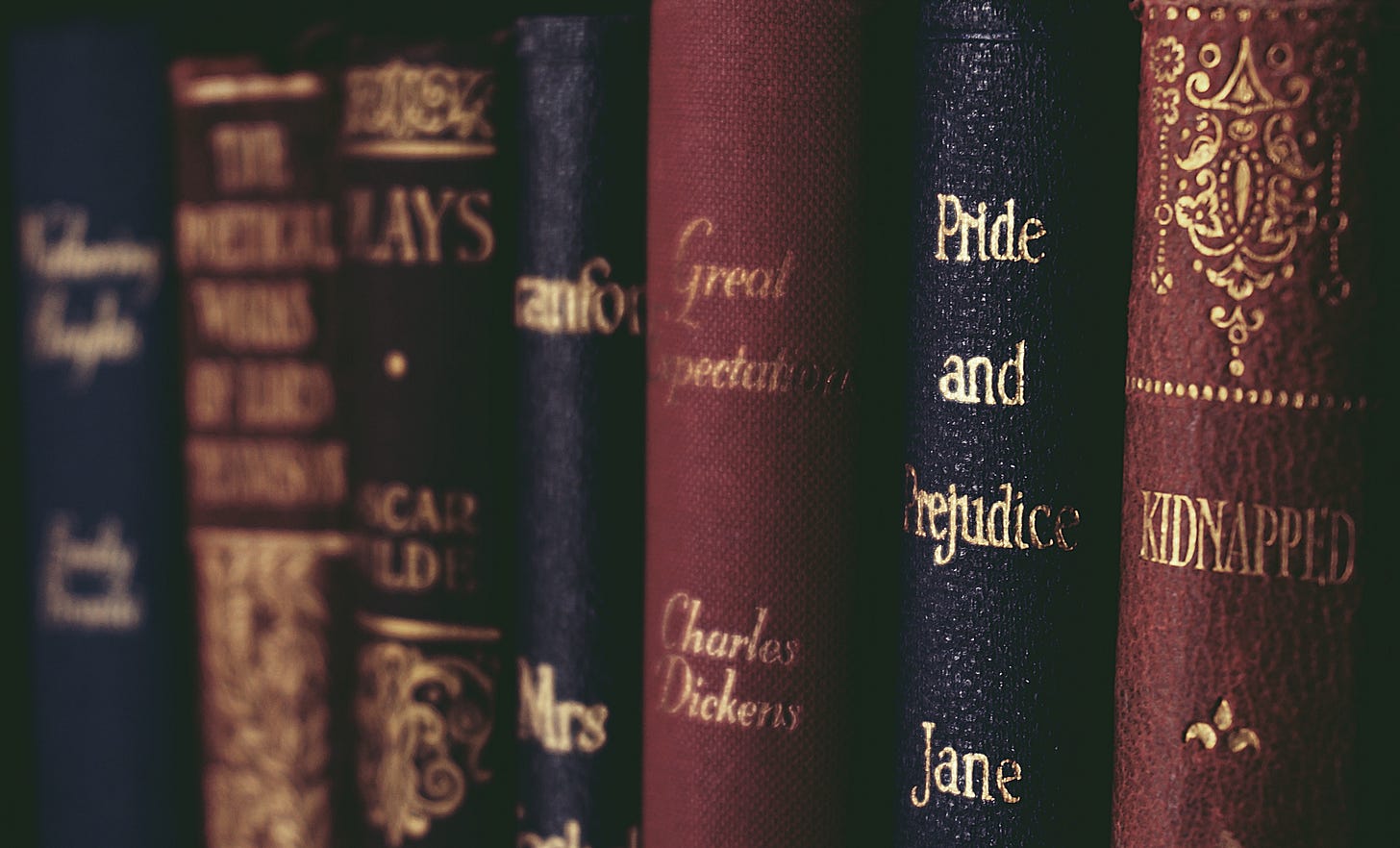 Photo by Suzy Hazelwood from Pexels
I'm finding it a little hard to write at the moment. How about you? This virus is changing our lives. Our society. Many people I know are suddenly out of work. It's… a little too big to comprehend.
The best thing I did today was not type some words on my keyboard but to overhear my elderly neighbour's carer say to her 'no luck' as she got out of her car, and to slip on my thongs and race outside with two rolls of toilet paper to place carefully at a distance.
That is the kind of thing that's making me feel okay at the moment.
But writing is what keeps me whole and helps me stay sane, and so I am seeing what I can do. I am keeping a journal again, for example. If I can't write much creatively at least I can record what is happening and how it feels. And I am still having plenty of ideas. I write them down in a notebook, mainly, but sometimes in my phone. They'll be there for when things feel more balanced.
But I am also reading. And reading, as I've mentioned before, can be part of the writing practice. How can you read in a way that feels productive to your writing, if that's all you can manage right now?
To read as a writer is to read deeply. You engage with a book on multiple levels and aim to discover why it does what it does to you. You read actively, not passively. Reading deeply may also be to go beyond the text and read around it (the author's oeuvre, contextual works, author bios, critical texts, interviews).
What do you read? If you're reading to write, re-read those books that have had a big impact on you. That may also be comforting for you at the moment. The first question you may ask yourself is a broad one: why do you love this book? This simple question may unlock for you something about yourself as a writer. In a recent 'Reading to Write' workshop I did at Writers Victoria, we all found that George Orwell's Nineteen Eighty-Four had resonated with us for different reasons. One writer said it was the strength of the writing, the sentences (how it started off plain and then went 'technicolour' for her); another said it was the mood; another the power of the message (and how that was achieved through aspects of worldbuilding, ie. Big Brother, doublethink, etc.). When I questioned each of the writers further, it became apparent that in their own writing, these were exactly the aspects that mattered for them to achieve. Golden sentences, an epic mood, a political message reflected in every element of the novel world! For me, it is often character, and 'resonance'. I go back to my favourite books and I think: why did that character stick with me? And what made the book linger?
When you're going back through these favourites, either take notes by page number, or use sticky notes. Highlighting and noting within ebooks works well, too. Look for those answers to the aspect that impressed you but also note anything that jumps out. Sometimes it's like a little puzzle – only later you'll realise why a certain line of dialogue, or character gesture, caught your attention.
When you finish the book, jot down any other impressions. Try to think about it as a whole, now – about big picture aspects such as the book's narrative voice or point of view; the pacing of the book and the progression or unfolding of scenes; how the writer held tension (what made you keep turning the pages); the characterisation, character arcs and the role of the characters in forwarding the plot; the elements that cohered to create a specific tone or mood, such as imagery; and the overarching themes or concerns and how these were presented.
You might be thinking: isn't this a recipe for derivative writing? A hard no from me. I have been reading Samuel Beckett's biography recently, and so much of his early years is reading and writing down great tracts of quotes from his reading, and writing essays about other writers, and all of this study, combined with Beckett getting in touch a bit with his inner self, led to some of the most original (and in my opinion, extraordinary) literary texts of the twentieth century.
So if, like me, writing feels like sludge right now, tuck a piece of paper into one of your old favourites, crack open a tin of food from the pantry, and dive in.
What I'm reading
One of my favourite writers/thinkers is Albert Camus, and I am now reading The Plague. Compelling and strangely comforting. I'm also reading two great Aus books: Shirl by Wayne Marshall (very entertaining short stories) and Cherry Beach by Laura McPhee-Browne (so far an absorbing novel of secret yearning). A favourite I intend to go back to is Mark Shelley's Frankenstein.
What I'm watching
Good Omens, which is great fun but has the same problem for me as some other British shows as being a bit too pleased with itself. And I'm still enjoying Picard. It's definitely fans-only, but I am one of those, so…
Opportunity of the month
Fitzcarraldo Editions, Giramondo and New Directions have joined forces on The Novel Prize, a new biennial award for a book-length work of literary fiction written in English by published and unpublished writers around the world. Cool!
Or, for published historical novels, there's the new $30,000 ARA Historical Novel Prize.
If you've been enjoying this newsletter, please do share a link on social media.
Take care, stay inside, and get in touch if I can help with anything,
Angela