Research your novel without leaving home
Do you have to travel to the places you're writing about?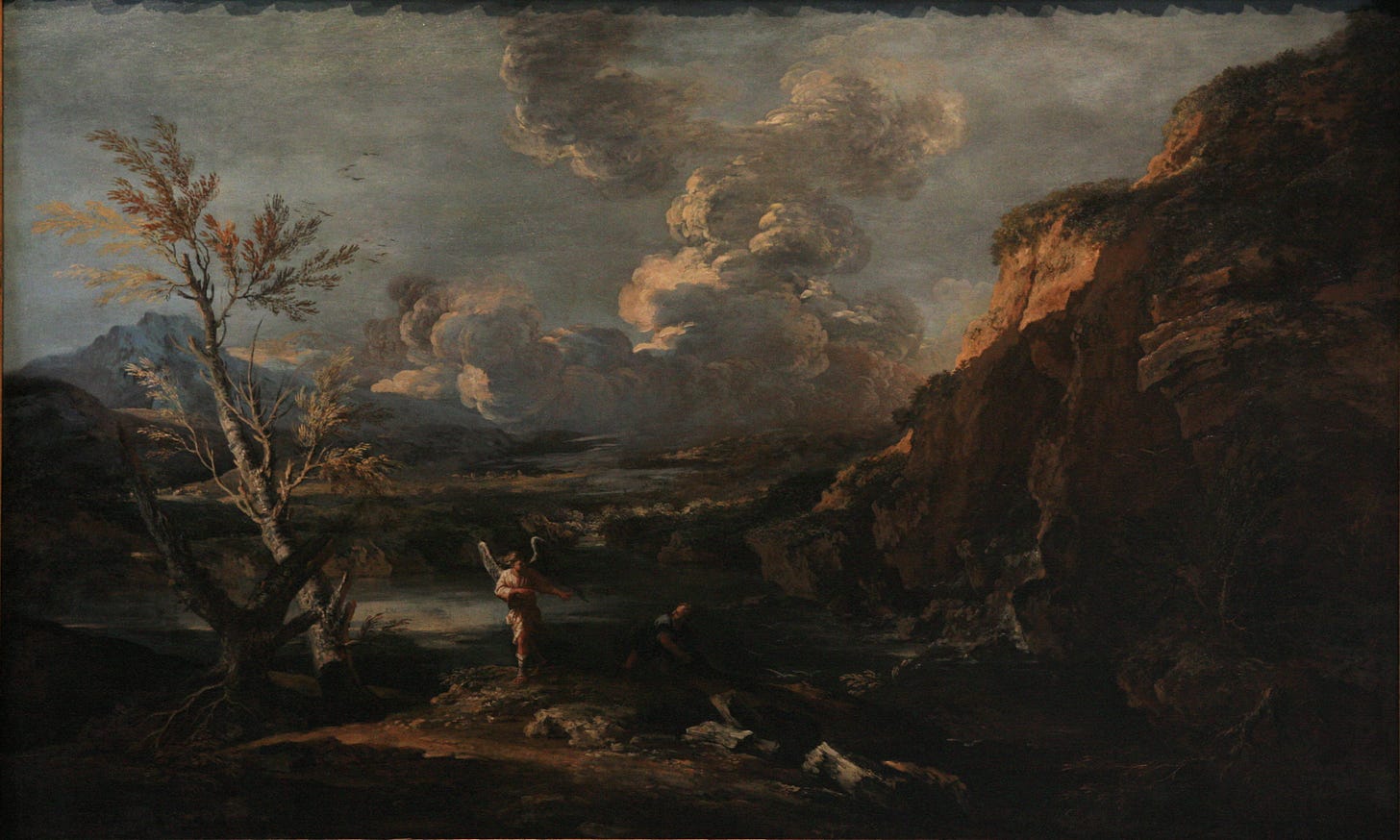 'Landscape with Tobit and the Angel', circa 1670 (Musée des Beaux-Arts de Strasbourg) – one of Ann Radcliffe's favourite painters
I've always been a sort of 'method' writer, wanting to immerse myself in the environment I am writing about. Getting those small details right: the smell, the weight of the air, the colour of the grass at dusk.
What I'm writing now is set partly overseas. I'm currently limited in how much I can travel, due to personal circumstances. And it's a privilege to have been able to do this at all. Many people, including many writers, have no access to air travel, and many people are also forcibly detained and, at this moment, quarantined. Ongoing, there is also the ethical question of the carbon cost of air travel.
But writers have always created rich, authentic story-worlds by relying only on what they have around them and what they have stored within. For example, Shakespeare's Italy, and the settings of Anne Radcliffe's novels inspired by paintings.
These are some of my favourite resources, all able to be accessed from or near my desk:
Libraries + databases
Absorb other people's impressions of a place and/or time. Read as widely as possible. Search libraries for books and e-resources but also newspaper archives (like Trove). Diaries can be terrific – often featuring those small details you are looking for (rather than the big picture stuff of straightforward nonfiction).
Social and digital media
Read blogs, listen to podcasts or follow people's social media that shows you everyday life in the place you're writing about. I found Pinterest useful when I was writing about 1960s Las Vegas.
Online dictionaries
The Dictionary of the Scots Language (free, online) was so helpful for me when writing A Superior Spectre. Language and place go hand in hand.
Galleries and online galleries
Like Ann Radcliffe, why not use art to capture the colours and mood of the place you're writing about? One of my favourite galleries is the MCA in Sydney.
Google Books
Search Google Books for the place, time or other details you are writing about. You'll not only find books but highlighted passages within them.
YouTube
One of my absolute favourite writing tools. To see and hear what you are writing about is so valuable. You still won't get the smells and weight of the air and whatnot, but you may get closer than what you could with a static image. YouTube is how I knew how to describe a deer rut (A Superior Spectre) and a nuclear test in the desert (Joan Smokes).
Gumtree/Craigslist/Airtasker
On these kinds of sites, you can place ads. I've been thinking lately: what if I had someone on the ground in the places where my novel is set, who can interact with the environment in the same way as my characters? An experiential researcher!
Extrapolation
I had an art teacher in high school who said: When you want to draw a dragon, use an image of a lizard. So, say you have a scene in a specific park in a specific city. You would need to know the general layout and what kinds of plants they have and what people do there. But to get the feel of it and round out your description, you could go to a local park and see what you notice. You could go to a greenhouse and sniff some of the relevant plants.
Your memories
I have actually been to the place I am writing about. But quite some time ago… I have a crap memory and I can't find my notebooks. But I will try harder! Brainstorm. Draw. Follow a thread.
Your inner world
Kafka's Amerika was partly inspired by his interest in Benjamin Franklin's autobiography and incorporates details of the experiences of his relatives who had emigrated to the United States, but it was also, as with all Kafka's works, enriched, as he said, 'by the pallid [lights] I would have found in my own interior'. We all perceive the world through our own filters and the truth in fiction partly comes from this.
//
What I'm reading
Damned to Fame: The Life of Samuel Beckett by James Knowlson, ahead of an Irish whiskey and words event in April (stay tuned). Have always found Beckett's work poignant.
What I'm watching
My partner started me on the American The Office and I've been hooked. Finally on Fleabag S2 as well so now I know what all the 'hot priest' stuff is about.
Opportunity of the month
Kill Your Darlings have a bunch of opportunities closing soon. It's a great journal and organisation. Get on it!
Warm wishes,
Angela